Extended UNTIL 3.07.2022
With CATHALIJN WOUTERS Studio Life, FRANCIS MAERE FINE ARTS GALLERY introduces the Dutch artist Cathalijn Wouters (1955) to the Belgian public. The various spaces of the Ghent Gallery not only provide visitors with the opportunity to explore her works in oil on canvas and sketches and drawings on paper, but also with a unique look into the creative world of this artist.
Artists' studios are fascinating places. Inspiring spaces full of colours, materials, and objects where artists enter into a dialogue with themselves and make full use of their potential in order to create. These are also intimate places: behind those doors, which normally remain closed to the public, hides a complete world of an almost mythical nature.
By allowing others to look into their studio, artists fully reveal themselves. Those who enter the space are granted access to the artist's soul, as it were. The studio tells us so much about who the artist is and how his or her creations come to be. This is why FRANCIS MAERE FINE ARTS GALLERY places this special space central in the exhibition CATHALIJN WOUTERS Studio Life. The studio, everything in it and all that takes place there, is not only a recurring subject in Wouters' recent work; the studio space in all its aspects is also the leitmotif for the structure of the exhibition, which transports visitors to the emotional world of the artist.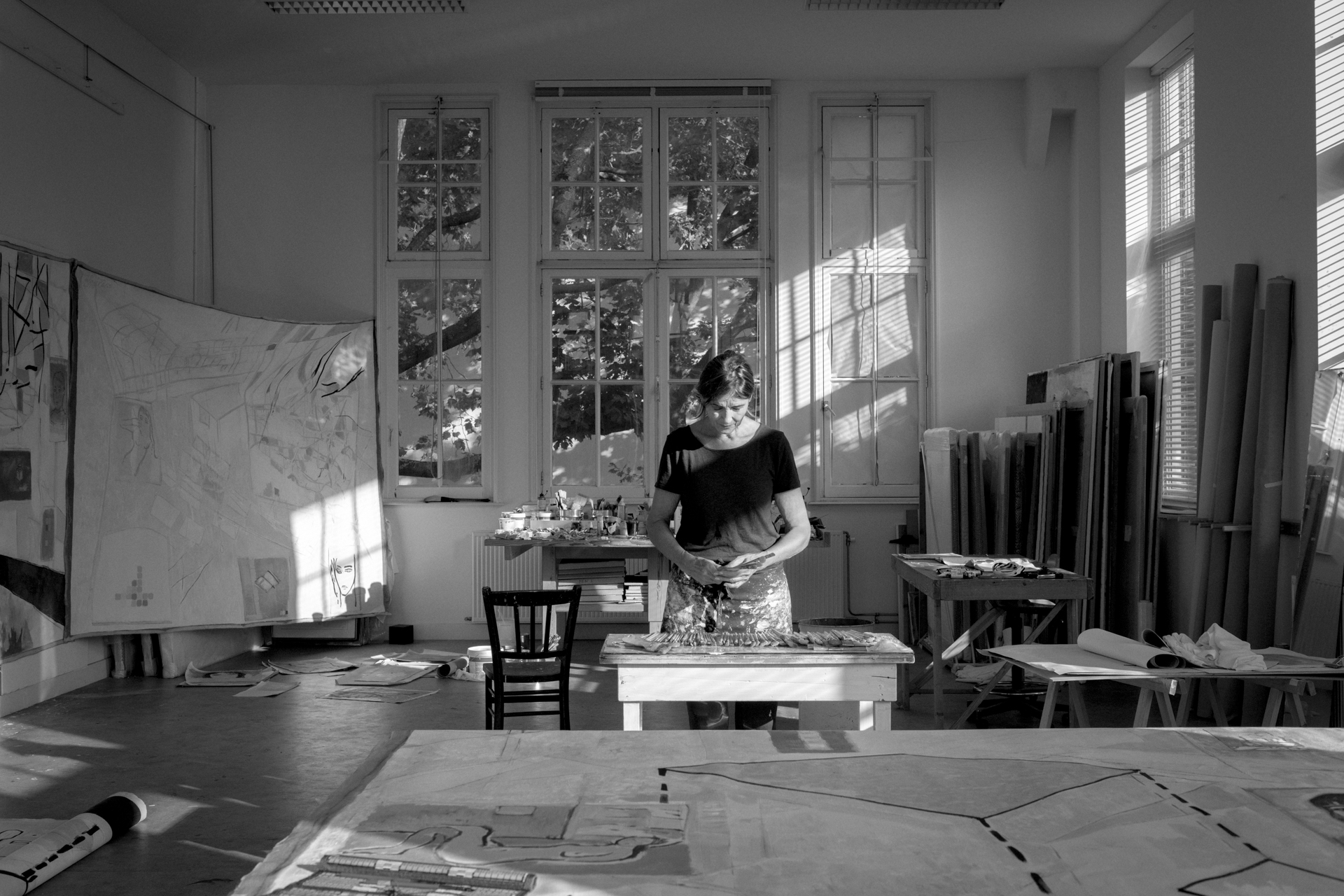 Life-size illusion
For this occasion, the Amsterdam studio of Cathalijn Wouters was dissected into five parts, which are presented to the visitors in as many symmetric spaces in the gallery on the Kouter Square. Immediately upon entering the gallery, a first space presents an impressive display in which objects and photographs together create a life-size illusion. It is as if one enters Wouters' studio, ready to discover her world and her work.
Portraits and drawings from a model are an important part of Wouters' oeuvre, demonstrating her fascination with the human body. These recognisable, elegant figures consist of little more than a few fine, almost calligraphic lines that go straight to the essence. Time and again, Wouters manages to very accurately address the underlying emotions and imagination of the beholder.
In order to arrive at this result, Wouters goes to extremes both for herself and for her models to eventually create something, in a kind of resonance between both persons: the model and the artist.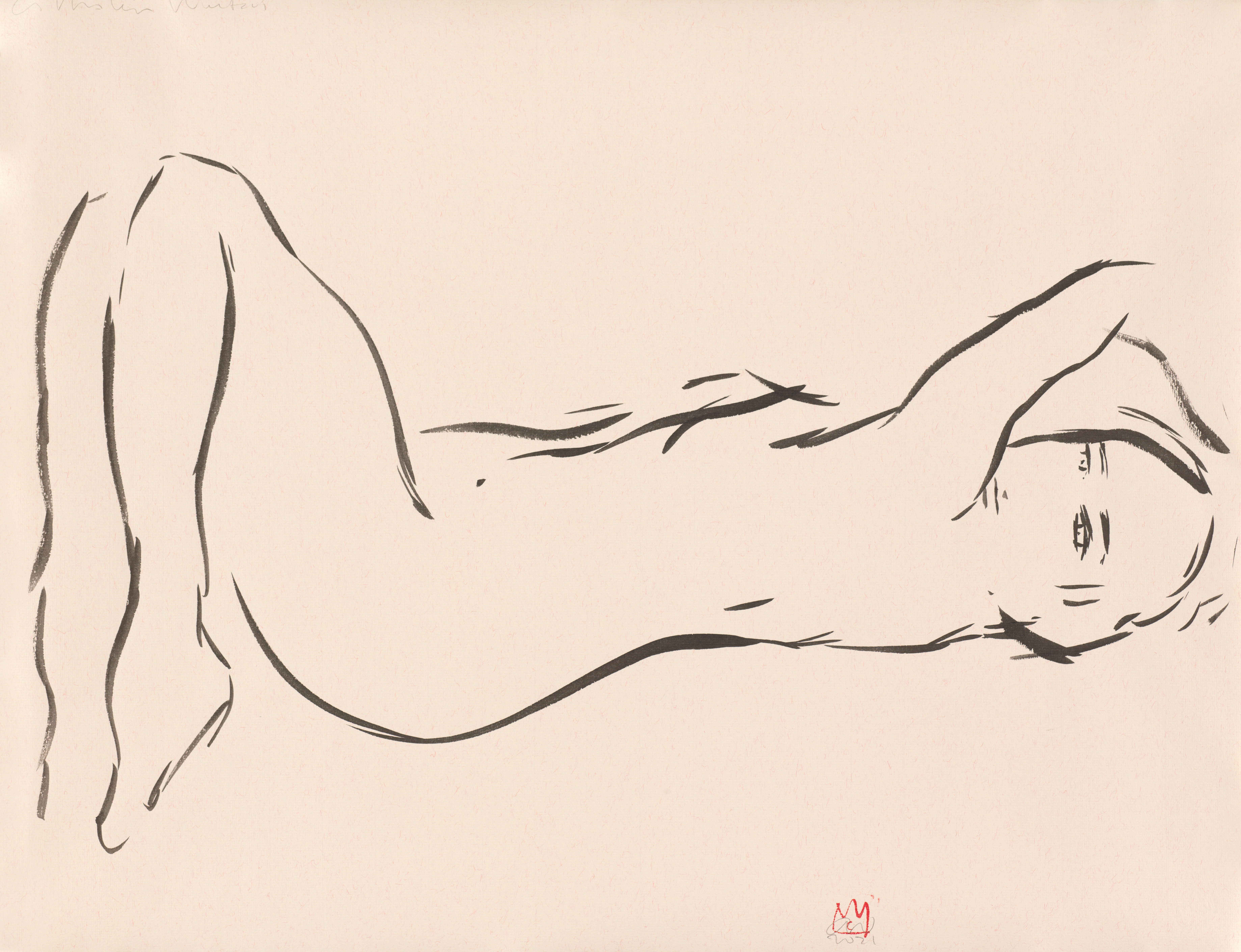 From trigger to discovery
Wouters' oil paintings are also featured prominently. The imposing canvases are characterised by her rigorous attention to formal elements such as colour, shape, and composition. The interaction between light colours and dark areas or black figures triggers the beholder to look for the stories and emotions behind the picture.
It is immediately clear that each oil painting is based on drawing sessions in which the essence surfaces in a natural way. Things that are not visible or tangible, such as feelings, thoughts, and desires, play an important part in this. Each painting is an elegant balancing act between what is and what could be. Wouters thus attempts to express the intrinsically layered nature of human emotions, which are deep and mostly defy description.
An intimate view
With this exhibition, FRANCIS MAERE FINE ARTS GALLERY immerses the visitors in the creative world of Cathalijn Wouters. Via an extensive selection of drawings, sketches, and works in oil, but also with video material and objects from her studio, they are granted an intimate view into how she practices her art. What subjects move and drive her? How does she translate her emotions into art? And how does she, through her art, make us reflect on who we are as human beings?