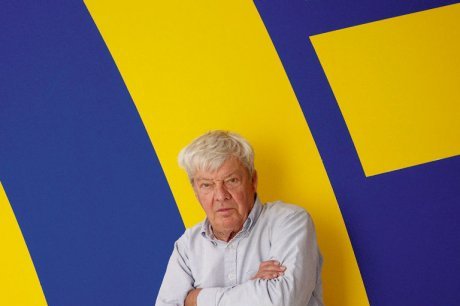 Pierre Clerk (born 1928) is a contemporary artist who works primarily in painting and sculpture. He was born to Canadian parents in Atlanta, Georgia. His father was an architect. Clerk lived in Canada between 1932 and 1952. He studied fine arts at McGill University, Loyola College, and at Montreal Museum of Fine Arts. He also trained at the Academie Julian in Paris and the Accademia di Belle Arti in Florence. Clerk moved to New York in 1959. His work has been widely recognized, and he has won grants from a number of institutions, including Canadian Council Awards; Tamarind Fel, Albuquerque, New Mexico; United States Information Service Exhibition Grant; Municipal Art Society Grant; and U.S. Department of State Travel Grant. Currently, he lives and works in Southwest France and in New York City.
Pierre Clerk's abstract, geometrical works are held in many museums and galleries in the United States and Canada, such as: Museum of Modern Art; Solomon R.
Guggenhiem Museum; Whitney Museum of American Art; National Gallery of Art, Washington, D.C.; National Gallery of Canada, Ottawa; Montreal Museum of Fine
Arts; Brooklyn Museum; Glasgow Art Museum, Scotland; New Mexico University, Albuquerque; Queens College, New York; and State University of New York, Purchase. Several of Clerk's paintings, serigraphs, and tapestries are in the collection of the Port Authority of New York and New Jersey and have been exhibited at the international arrivals building at John F. Kennedy International Airport and the World Trade Center. In addition, a collection of his papers (covering the years 1956 through 1982) are in the Smithsonian: Archives of American Art, Smithsonian Institution, Washington, D.C.
Clerk first came to national attention in the U.S. in the spring of 1956, when he was chosen as one of three artists to be featured in the Museum of Modern Art's 9th New Talent Exhibition. The New York Times described the show as "one of the best in this series" and went on to say: "Clerk's boldly colored and decorative non-objective oils are in the general tradition of Matisse and are laid out in deliberate patterns like those in an oriental rug, handsome and clear in their planning." Since the mid-1950s, his work has been included in many group and 60 solo shows. In 2010, the gallery Cortex Athletico in Bordeaux, France, mounted a large show of paintings and smaller sculptures. Called 70/10, the show presented a dialogue between recent works and those of the 1970s. Speaking of his own work, Clerk cites Theo van Doesburg, Piet Mondrian, Neoplasticism, Brancusi, and the cubism of Picasso as major influences.
In addition to painting, Clerk has also created monumental sculptures of note. In 1977, four of Clerk's large sculptures, which the artist crafted specifically for the location, were installed at Waterside Plaza, an apartment complex on Manhattan's East River. Sponsored by the Public Arts Council of the Municipal Art Society, the installation garnered a positive review in the New York Times. Of the large geometric pieces, Paul Goldberger wrote: "The success of the Clerk exhibition, which will remain at Waterside Plaza for an indefinite period, is an obvious reminder of the extent to which sculpture can assist in solving an architectural problem... The sculptures neither give in to the buildings nor fight them; instead they treat them almost playfully, teasing the towers' somber forms, yet never becoming shrill or unkind. It is the sort of balance more urban sculpture should strike."
Clerk's two-story City Candy (1983), described as a "commanding presence" by the Toledo Blade, weighs 25,000 pounds. The red-and-white striped aluminum sculpture, which measures 42 feet by 48 feet by 24 feet and has one base inside a parking garage and the other on the adjacent sidewalk, was named by the winner of a 1984 "name the sculpture" contest. As the first city in Ohio to adopt a one percent for arts program, Toledo, Ohio boasts more than 80 examples of public, outdoor art, which include large sculptures, environmental structures, and murals. These works are organized into a number of tours. The Toledo Blade cites City Candy as being "among our favorites" on the Promenade Park–River Walk tour. But, as almost all public art does, City Candy has drawn its share of criticism, and it "continues to be a controversial sculpture with opinions being voiced strongly on both sides."