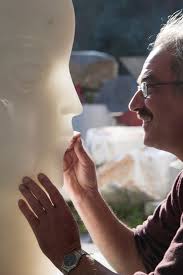 Kobe, artistic alias of Jacques Saelens, was a Belgian sculptor whose work has touched peoples' lives all around the world. He created his own style of sculptures, shaping figures that are instantly recognizable.
Two themes dominated his creations: the female figure in all its simplicity and mystery, and the horse as a symbol of strength, companionship, and connection.
Fascinated by the ancient cultures in Central and South America, Africa and Asia, Kobe travelled around the world to develop his artistic vision. Each one of his creations is therefore preceded by a long journey of study, passion, and awareness. They are of the highest quality and appreciated by critics for their unique form of combining the broad, wide and the thin, narrow. His sculptures are often compared to those of Fernando Botero and Marino Marini.
Kobe did not overcomplicate or inject his art with hidden meanings. Instead he was in constant search of simplicity, purity, and beauty. Through his works of art Kobe brought feelings to life for the world to enjoy: happiness, affection, love, and friendship.
Find out more about Kobe
Kobe was born on 4 September 1950 in Kortrijk (Belgium) as the oldest in a family of seven children. His father was an art lover, but had little faith in an artistic career for his son. Nevertheless, Kobe was determined to become an artist. From 1972 to 1974 he took up courses in Plastic Arts, specialising in sculpture at the St. Lucas Ghent and St. Lukas Brussels.. Between 1969 and 1977 he also took up evening classes in sculptures at the Royal Academy of Fine Arts in Kortrijk.
Before his oeuvre became famous and was valued for its uniqueness and monumentality, the artist was juggling between several jobs just to be able to concentrate on his art. The tide turned when in 1979, he was asked to teach at the Academy of Fine Arts in Deinze and was commissioned by the National Flax Museum in Kortrijk to make figures and horses in a hyperrealistic way.
His oeuvre really started to take shape in the early 90's. Time and again, broad and thin figures came to join his remarkable visual universe. Thematically, the female figure and the horse (marble or bronze) dominate his oeuvre.
Kobe created numerous female figures, but without the kind of extremely coquettish femininity we know from fashion magazines and movies. What Kobe created was more mysterious in itself, in the purest and simplest form.
KOBE
Another favourite theme of Kobe is the horse. Not only because of its magical curves and strength, but more important is the myth which the animal carries inside. We are much indebted to the animal. Its history, moreover, runs parallel with that of man: the horse was always there. In times of hard work, war, in sports entertainment, in defeat and victory.
Kobe was an artist who built on the history of art in a firm, subtle and skilled way. Kobe was fascinated by the ancient cultures in Central and South America, Africa and Asia. He developed his artistic vision by making a lot of trips after he graduated. A synthesis of many years of travel, study, passion, looking, seeing, touching and feeling. He made his art experience so fanatical and enthusiastic that he made sure that each creation was preceded by a long journey.
Kobe's sculptures originate in countless sketches. Details are either eliminated or magnified and are, therefore, crucial. The essence remains. If all those conditions are met, then Kobe can reach for the wet clay to 'build' around a carefully studied frame. Later comes the plaster cast which is often planed, sharpened and polished for a very long time. For weeks, or even months, a sculpture will 'reside' in the studio.
Everything had to be thought through and geometrically reasoned. Only when Kobe found that the sculpture was finished, he could say goodbye to it. A difficult but at the same time happy moment. Kobe then made a mould, a negative print of the model. This he then brought to the bronze foundry to cast a bronze sculpture. There is a long and intense creational interval between the initial idea and finished sculpture.
The bronze sculptures feature a beautiful patina. Soft glossy, in deep black, brown or bright green-turquoise colours, emphasizing the plays of lines. Or earth tones that give the sculpture a stone-like or ceramic appearance.
Kobe also liked working with marbles. For example, the Bianco Statuario di Carrara, Rosa Portugale, Cipollino, Travertino Giallo Persiano, Nero Marquinia, Azul Macaubas, Rosso Laguna, Giallo Egitto, Chiampo Rosa, Thassos Pure White, Travertino Rosso Persiano, Nero Belgio and Bardiglio Imperiale were some of his favourite marble.
Kobe lived and worked in Pietrasanta since 1995, the famous and historical international centre for artists and sculptors in marble and bronze, close to the bronze foundries and close to the Carrara marble quarries. It gave Kobe a kick, the feeling of living and working in a place where idols like Marino Marini and Henry Moore stayed regularly. To say nothing of Michelangelo. That is how long the village has been a sanctuary for sculptors.
Although Kobe worked from a studio in the heart of the artists' colony with artists from around the world, Kobe's approach of his art remains notable for its absence of complex artistic theories. Kobe doesn't strive to express his art with hidden meanings, eloquent gestures or inflated personal emotions. Kobe pursues simplicity, purity and beauty. With his sculptures he wanted to shape a feeling or emotion such as happiness, affection, love or friendship. The viewer has to have fun watching his work. That is his motto.
The simplicity radiating from Kobe's sculptures conceals their ingenious nature. It is extremely difficult, time and again to express this extreme compactness of a feeling or emotion in a sculpture when you negotiate the tightrope of broad and thin at the same time. Kobe plays with planes and shapes. Within an invisible boundary he searches for the maximum expressiveness. It has become his trademark.
Kobe unexpectedly passed away in Saint-Julien, Var (FR) on 26 October 2014 at the age of 64.