Chronology
1922
Ernest Eugeen Lieven Van Hoorde makes his entry into the world in the early morning of 12 October 1922. His parents Eugène Lievin Isidore Van Hoorde and Felicie Gérardine Marie Hortense Théophile Pire welcome their second son at their home in the Vlotstraat, Ghent. Eugène Van Hoorde is stationmaster of Merelbeke station. The family goes on to have three sons: Eugène, Ernest and Jean.
1935
Even as a child, Ernest Van Hoorde (EVH) proves to be extremely talented in drawing. He is already creating larger works at a young age. In November 1935, the 14-year-old EVH sends a letter to the great James Ensor. He poses weighty artistic questions such as 'Does painting still have meaning these days?' and 'Is it acceptable that an artist should live from his work', a clear sign that he is assessing his future. Later he also states that 'People have to create. People are incomplete, yet regardless of what they create, it can never be more perfect than the people themselves.' It is clear that the act of writing to the esteemed James Ensor lingered on in his mind until the end of his days.
1941
After graduating from the Rijksnor- maalschool (the state teacher training college) in Ghent, he enrols in a series of courses at the Royal Academy of Fine Arts in Ghent taught by Gaston Pauwels, Alfons Decuyper, Jos Verdegem and Jules De Sutter.
At the same time, Ghent is occupied by the German troops and his life as a stu- dent is severely disrupted. His father joins the resistance and Ernest resists being conscripted. Consequently he is obliged to go into hiding at the house of Mrs Auman in the Wondelgemstraat, a stone's throw from his parents' home in the Vlotstraat. He persists with his sketching, and thus many of his early drawings were made during his stay with Mrs Auman. He obtains his diploma in drawing instruction from the Ghent Academy in 1946.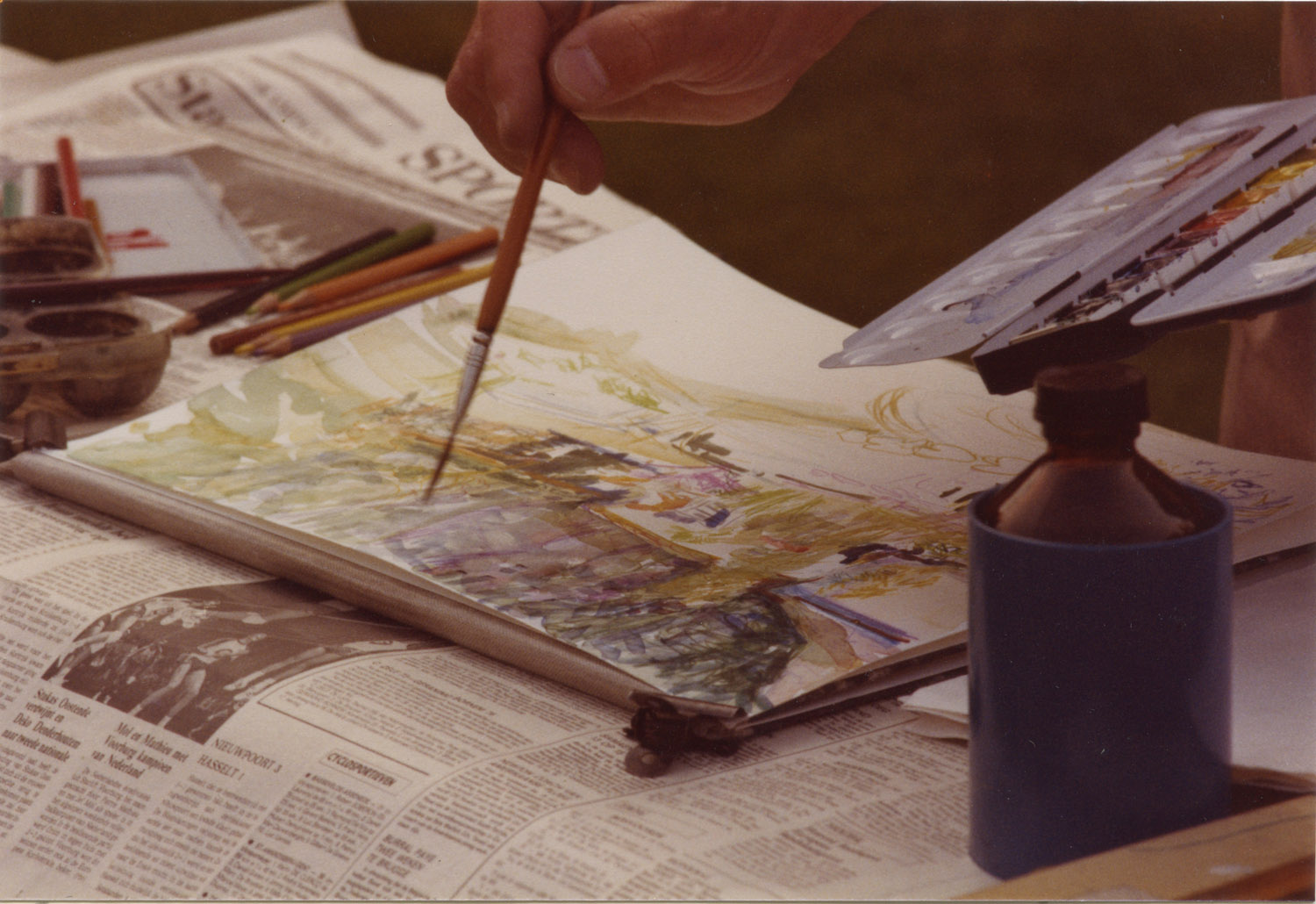 1947
During his student years, EVH gets to know Renée De Cuyper, the daughter of his tutor, the artist Alfons De Cuyper. She is four years younger than EVH but is also taking lessons from her father in the same period. From 1944 until their marriage on 23 August 1947, they pen multiple love letters to one another. In one of these missives, Renée writes: 'I prefer to think of our love and of all the beautiful things, instead of thinking of this war which does nothing but seek to destroy happiness.'
1950
Following their marriage, the young couple moves to the Rue Boudenghien 13 in Flobecq. EVH teaches in Ronse and Veurne whilst also studying at the Academy of Fine Arts in Ghent. Both EVH and Renée De Cuyper participate in various exhibitions, including the Ghent Salon of Fine Arts in Ghent in both 1950 and 1954, as well as the Exposition Collective in Ghent.
1952
EVH and Renée De Cuyper rejoice at the birth of their son Pierre. From now on, Renée decides to take care of her son and put her drawing career aside. The young family stays in Flobecq until 1958, afterwards moving to the Laurent Delvauxstraat 13 in Ghent. EVH and De Cuyper will continue to live there for the rest of their lives.
1959
A year after graduating from the Higher Institute of Fine Arts in Antwerp, EVH is awarded the Mayor Camille Huys- mans' Prize for Painting as a figure painting pupil in the class of director Julien Creytens. The panel that awards the prize includes Baron Isidoor Opsomer (president of the jury), director Julien Creytens and Willem Paerels. EVH receives 40,000 Belgian francs, designed to encourage the emerging artist to travel in search of new cultures and inspiration. For the first seventeen years Camille Huysmans is supposed to have told the prize-winners: 'Go to China and explore.' EVH fits perfectly into the philosophy of the 'official' Antwerp academy style of the 1950s, an approach that can be described as a moderate, intimate synthesis of a post-Wou- ters Fauvism and a post-Permeke Expressionism. Traditional in terms of content (landscapes, interiors, portraits and still lifes) and moderately modern in terms of form, with refe- rences to Fauvism, Expressionism and sometimes Cubism and Surrealism, this style bills itself as 'modern Flemish painting'. Until the end of his life, EVH would continue to rail against the modern violence of abstract art.
1962
During his student years, EVH became closely befriended with Taf Wallet, a painter and tutor at the Antwerp Academy. Taf encourages EVH to participate in the various salons of which he is a member. Thus EVH takes part in Les Amis de l'Art (La Louvière) in 1956, Cercle d'Art Bon Vouloir (Mons) between 1956 and 1990, and Les Peintres de la mer (of which he is a very active member) between 1955 and 1975. This artists' association has a preference for maritime motifs, but without the members needing to be exclusively seascape painters. EVH has a holiday home in Zeebrugge and regards the sea and the port as two of his favourite subjects.
From 1 to 20 October 1962, EVH travels to Munich on a study trip organised by the Ministry of National Education and Culture. Here, he explores art education in the German gymnasium (grammar school) system and teacher training in the visual arts and art education. He stays at the Luitpold Oberrealschule in Munich, and visits various schools, libra- ries and museums. He writes daily letters home addressed to both Renée and Pierre, in which he tells them all about his activities. After his visit, he writes up his findings and ideas in a report. He ends with a reverie on the Southern German landscape and the similar vistas painted by Bruegel.
Alongside their group exhibitions and professional deve- lopments, Taf Wallet encourages EVH to take part in Anto Carte's Prize for Painting, for which he is a jury member. EVH was awarded the prize, along with 50,000 Belgian francs, on 4 December 1962.
1960-1980
In this period, EVH is at the peak of his artistic and professional career. He participates in various exhibitions throughout Belgium, including A Century of Fine Arts in Antwerp in 1963; Flowers in Flemish Painting, From James Ensor to the Present Day at the Floraliën in Ghent in 1965; 100 Years of Belgian Art, The Gustave Nellens Collection in Ferrara (IT) in 1970; Profile 71, Visual Art In and Around the Westhoek at Koksijde in 1971, curated by Jan Hoet; The Landscape of France (Les Amis de l'Art) at La Louvière in 1975, in colla- boration with Isy Brachot. He is also guest of honour, along with Felix De Boeck, at the autumn salon of the Maison des Arts du Goddiarch in 1975 at Villers-la-Ville.
Solo exhibitions are staged at the Vyncke Gallery in Ghent, the Albert I Gallery and Giroux Gallery in Brussels, and the AKSENT gallery in Tielt, amongst others. He also serves as a jury member for competitions, including for UNICEF in 1971 in Paris and for Anto Carte in Brussels in 1970.
1980
The birth of his grandson Sebastien turns EVH into a much-loved grandfather. With his retirement in sight (1 January 1981) he is able to spend more time with his family. There are holidays in Zeebrugge, Great Britain (mainly the coast) and visits to the great museums in cities such as Florence, Paris, London and Vienna.
Throughout his life, his drawing material is never far away. From his Munich and Budapest study trips in the 1960s to his classroom at the Ghent Academy, he always has a pencil or some Chinese ink to hand. After retiring, he remains active as an artist but leaving the academy was a heavy blow.
1991
After a short illness, EVH dies on 11 November 1991. At the age of 69, he leaves behind an impressive quantity of drawings, watercolours, etchings and paintings. His wife Renée would continue to live in the Laurent Delvauxstraat in Ghent until her death in 2007. Together with her son, she established an initiative to make the works of her husband better known amongst the general public, with the idea that his oeuvre and his message can live on and inspire others.